| | |
| --- | --- |
| Posted on March 20, 2017 at 5:15 AM | |
Happy Spring Equinox to you all.  A time of renewal, rejuvenation, a time to shed the old outdated layers and start stirring awake just as the trees and plants are doing.  The magnolias are ready to burst open (typically just as the weather changes to windy, wet and chilly!), the blackthorn is in blossom, the hawthorn is leafing up as is the willow and others too.  Everywhere you look  there are flashes of yellow; vivid, impossibly cheerful and full of hope.  And the white blossom of the thorn, magnolias and wood anenomes are clean and pure reminding us of our intrinsic Goddess-selves or God-selves.  So, although times are a bit trying right now (again! lol), there is hope all around us if we look. 
I just birthed a new drum in time for the Equinox. And to mark the begining of spring and renewal and sunshine, I have used yellow ribbon. The drum is 13", with a beautiful oak hoop and made with red deer crossed with elk hide, so a little unusual, strung with fake sinew to allow her a tuneful voice for longer in these damp climes. The handle and drum beater handle are of fir/pine from the Fae woods up the Kymin, Monmouth.
She (new drum) had her first outing to find her voice and oh my, what a big and beautiful voice she has! Lot of fae energies with this drum as well as grounded energies. She spent a good part of this afternoon singing at the White Leaf Oak site in the Malvern Hills... pixie and dryad land. So, if you are her new guardian (and if you are, oh my what lovely energy you have, as she is a joy and was also a joy to make!) message me. She has been smudged both by the fire and by sage. With love ♥
 It was so good to be out in nature yesterday. We were blessed with good weather and good company and a rip roaring fire, wind to blow away the cobwebs and some lovely drumming. Oh. And lots of hot cross buns and an awesome cup cake made with pear and chocolate by one of the lovely ladies .... thank you all xxx
Excuse the wrong way facing photograph, I am waiting for the website people to answer my call to sort it out :-) xx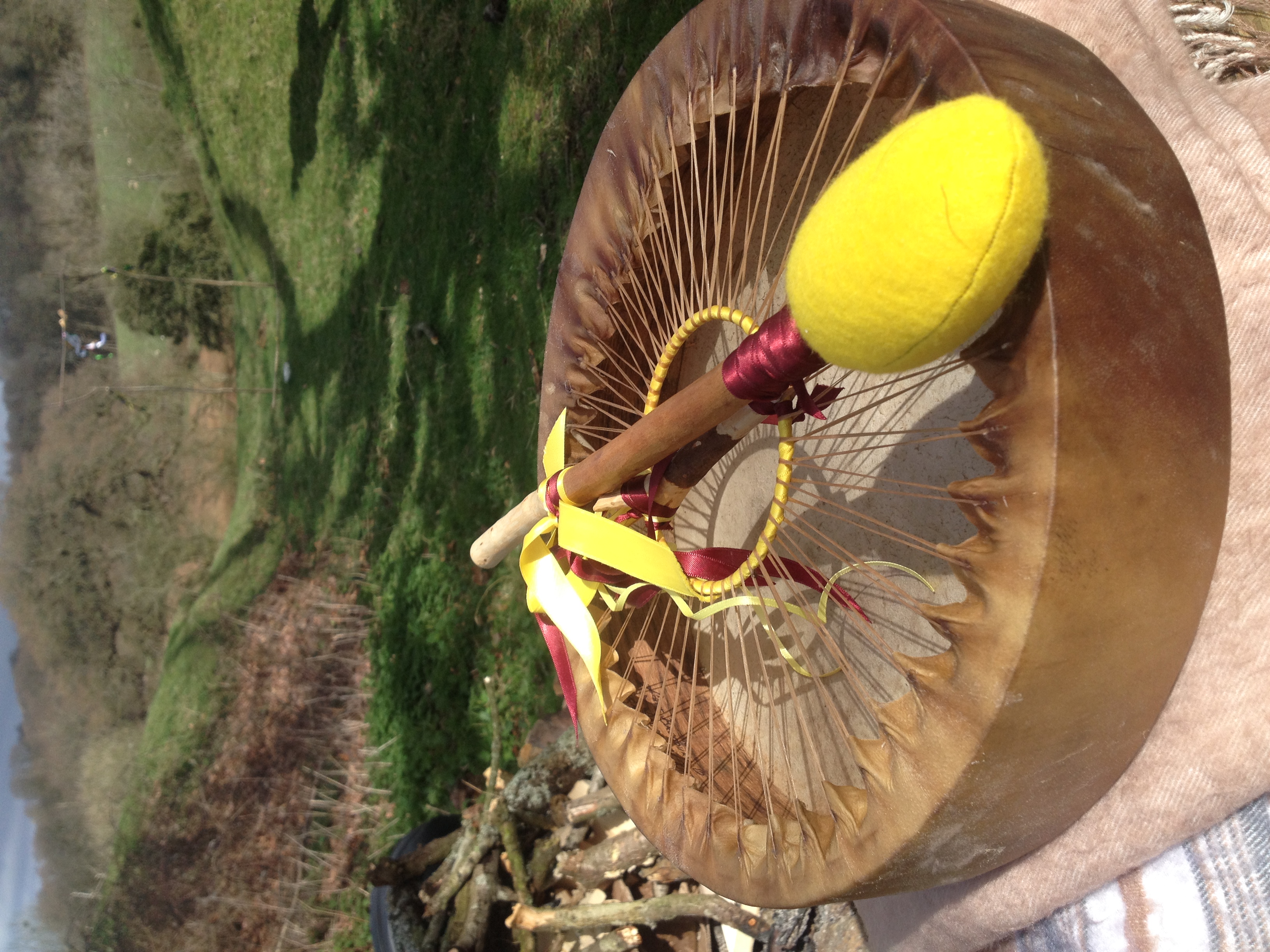 Categories: Energies/Ascension/What's going on, Drums and my music
/